Youth with psychosis in Northwestern Ontario do not get the help they need when they need it.
We're going to change that.
The NorthBEAT Collaborative —funded by the Ontario Trillium Foundation Youth Opportunities Fund and sponsored by the Centre for Applied Health Research at St. Joseph's Care Group— is a strategic systems collaborative that will make it easier for youth with psychosis to get the services they need, when they need them. We will improve pathways to care and services, and build the capacity of multi-sector providers to connect, learn, and make improvements in the communities they support.
The NorthBEAT Collaborative is funded by the Ontario Trillium Foundation Youth Opportunities Fund, and sponsored by the Centre for Applied Health Research at St. Joseph's Care Group.
Collaborative Member Agencies
Signed Member Agencies (As of January 11, 2017)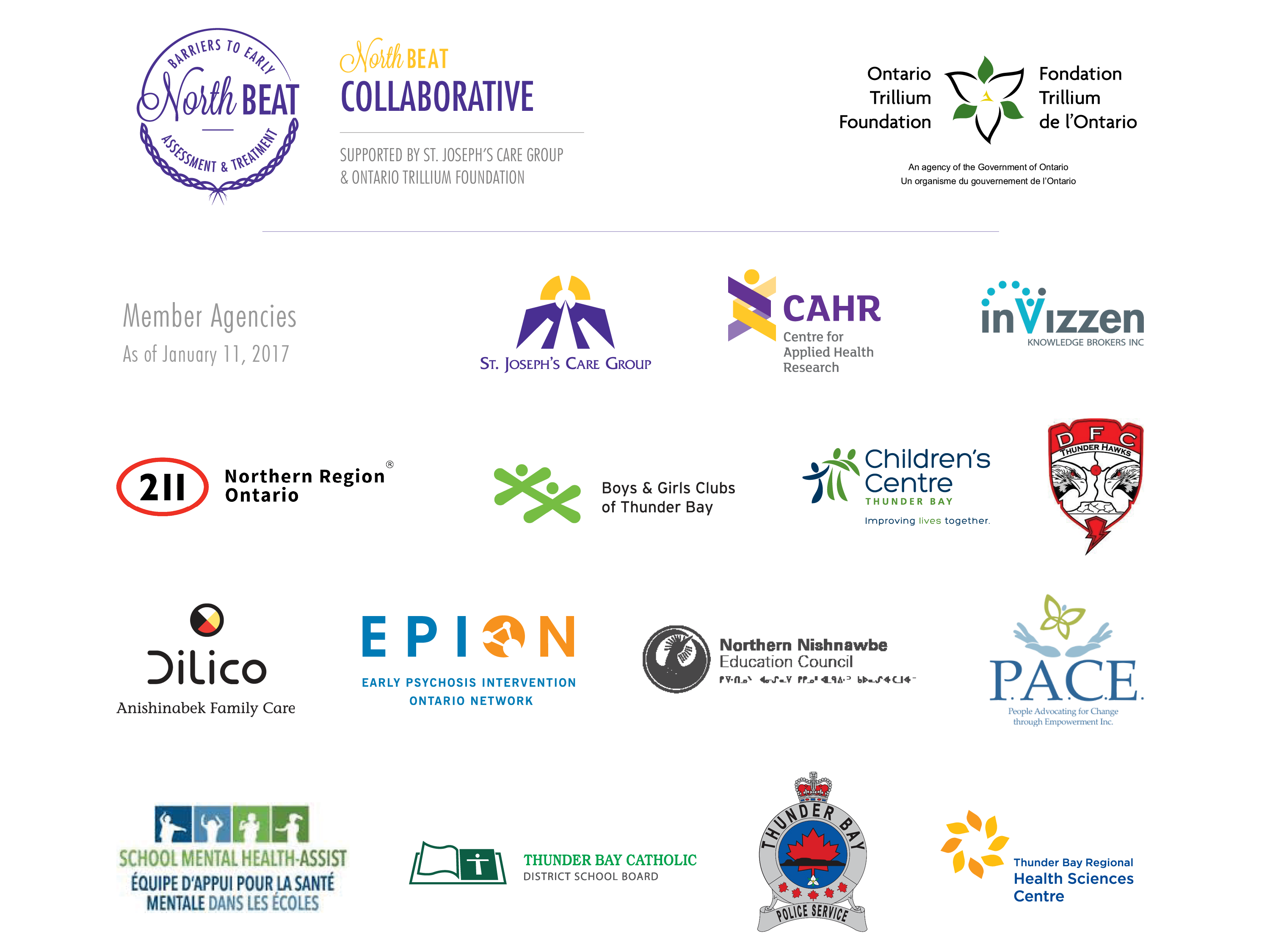 NorthBEAT (Barriers to Early Assessment and Treatment) is a collaborative of researchers and service providers across Northern Ontario with an interest in improving the system of care for youth with psychosis.
Chiachen Cheng, MD, FRCP(C), MPH | NorthBEAT Lead / Physician Researcher
Dr. Chiachen (Chi) Cheng completed her Psychiatry residencies at McMaster University, a clinical fellowship in Early Psychosis Intervention (EPI) at McMaster University, and a Master's of Public Health at Harvard University. Dr. Cheng's primary research interests are Early Psychosis Intervention, evidence based practice as it interfaces with paediatric mental health policy, and models of care for vulnerable populations in rural/remote settings. Her research has examined program implementation and development, fidelity to EPI standards, evaluation of EPI training for healthcare workers, delivery of EPI services in rural and remote regions, and pathways to care among vulnerable populations (e.g., youth, Indigenous people). Dr. Cheng was awarded a 3-year New Investigator Research Award from the Sick Kids Foundation and Canadian Institutes of Health Research for The NorthBEAT Project in 2012. In 2017, Dr. Cheng and the NorthBEAT team received a 4-year Ontario Trillium Foundation Youth Opportunities Fund grant to support the NorthBEAT Collaborative. This diverse collaborative will improve coordination of care, build capacity to detect psychosis symptoms early, and enhance access to appropriate services for youth with psychosis who live in Northwestern Ontario.
Shevaun Nadin, PhD | NorthBEAT Research Coordinator
Dr. Shevaun Nadin joined St. Joseph's Care Group in 2013 as the Research Coordinator to the NorthBEAT Project. With research interests that span a variety of health topics, Dr. Nadin is particularly interested in program evaluation as a means of understanding health needs and improving health programs and services. A PhD graduate in psychology from Carleton University, she has worked on numerous research and evaluation projects, including projects conducted independently as well as through the Centre for Education and Research on Aging and Health and the Centre for Rural and Northern Health Research (Lakehead University). Dr. Nadin is an External Adjunct Professor in the Department of Health Sciences at Lakehead University and an active member of the Canadian Evaluation Society and American Evaluation Association.
Carole Lem, BA | NorthBEAT Research Assistant
Carole joined St. Joseph's Care Group in 2012 as Research Assistant to "The NorthBEAT Project". Working alongside Drs. Cheng and Nadin on NorthBEAT and its follow-up initiatives, Carole has a keen interest in stakeholder engagement and knowledge translation in the social media age. She is particularly interested in applying the principles of strategic communications to research dissemination to increase accessibility and uptake for knowledge users. Carole has worked in Research and Strategic Communications since 2009, and completed the Mental Health Commission of Canada's SPARK Knowledge Translation training in 2014. Carole has also supported Ontario's Early Psychosis Intervention Network (EPION) with their knowledge exchange and strategic communications initiatives. Carole holds a Bachelor's degree from York University, and is completing her Master's in Public Relations via Mount Saint Vincent University.